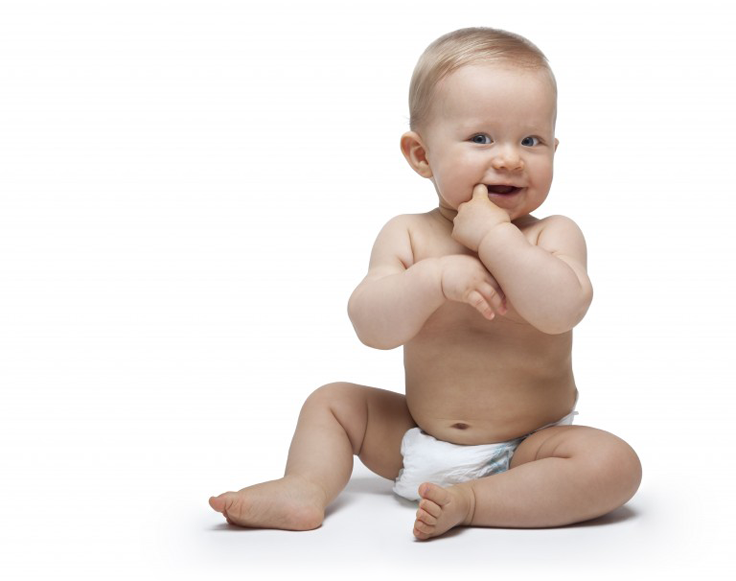 The way in which your baby learns to sign is very similar to the way in which she will learn to speak. Your baby will first understand a sign before she uses the sign. This distinction is referred to as receptive versus expressive language (or passive versus active vocabulary.) Older babies will move more rapidly from receptive (passively understanding) language to expressive (actively using) language.
Signs that have similar hand movements will start out looking very similar. For example, the signs for the words more and shoes will look very much the same in the beginning especially if your baby is very young. This is similar to a baby saying "ba" to refer to a bottle, ball and balloon. As your baby matures and gains more control over her hands you will then begin to see a marked difference between previously similar signs.
Just as babies begin speaking at different ages, so too will babies begin signing at different ages with some starting as early as six months. The more control your baby has over her hands and the more interest she has in communicating with you, the more likely she is to begin signing back to you.
There are two milestones in baby education of sign language that most babies will pass through in learning. The first milestone is the first time that your baby signs to you. This moment will be as thrilling to you as your baby's first spoken word. Once your baby learns a given sign, she will notice the object that represents the sign everywhere. Your baby may also use this first sign to refer to many different objects and actions. This is similar to a baby saying "da" to refer to everything in her world because she finally has a way to communicate.
The second milestone or education is often referred to as a signing explosion or signing cluster. This usually occurs after your baby has learned her first five to ten signs. At this milestone your baby has assimilated one of the most powerful symbolic actions that distinguishes our species from all others on our planet – the link between abstract symbol (the sign) and the experience it represents. Once this monumental achievement is in place, she is likely to learn additional signs very rapidly. The ability your baby to learn additional signs will most likely only be limited by your ability to provide her with the signs.
---
Signs that cross arms
Your baby may have difficulty crossing her hands or arms when she is young. For example, the ASL sign for the word bear involves the crossing of your arms. Your baby may approximate the motion of this sign without crossing her arms. Remember to continue to teach the correct motions for this sign. Your baby may think that she is in fact making the same sign as you are and may become confused if you change the sign.
---
Preference for index finger
Your baby may use her index finger for signs that formally involve the use of her thumb. For example, the ASL sign for cow involves the thumb touching the temple of your head to represent the place where the cow's horn connects to the cow's head. Your baby may use her index finger in place of her thumb. This is also very common for signs such as mommy and daddy.
---
Initial movements
Depending upon how young your baby is when she begins to sign, she may make most of her signs with all five fingers extended or clenched in a fist. Younger babies may not have the motor skills to select only a few fingers for a given sign. Her initial overall movements will reflect her motor development. Younger babies are likely to move their hands and arms in a jerky motion as opposed to a smooth and controlled motion. Young babies may also slam their hands together instead of tapping lightly for signs such as shoes and more. Your baby's signs will become more refined as her motor skills mature.
---
Signing in reverse
Your baby may make some signs in reverse. Remember that your baby will be seeing a sign backwards if you sign on your body and in front of your baby. It is yet another developmental milestone for your baby to recognize that the sign needs to be reversed in order to make the same movement as you are making from her perspective.
---
---
---
---
---